This is my close friend Bob Heil K9EID (With Heil Sound Maker of GREAT Microphones) with his vintage 1956 Ford T-Bird
Myself Leo KJ6HI, and Elipidio Cobian N6VJD at TRW Amateur Swapmeet in Los Angeles (formerly from the group CLEARWATER) "Hey he also played at WOODSTOCK"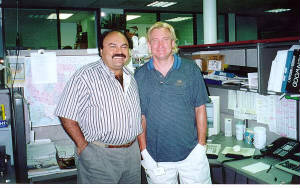 Myself Leo KJ6HI, and my
freind Joe Walsh WB6ACU
(With the Eagles) Joe paid us a
visit a Kenwood
Communications in Long Beach.
Joe I really enjoyed seeing you,
and the EAGLES at the Staples
Center on New Years Eve
Concert 12/31/1999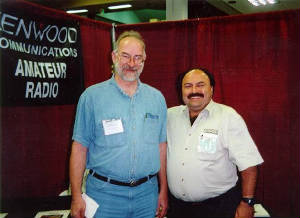 Myself Leo KJ6HI, and my good friend Paul K7CW from grid square CN87. He is a 6 Meter Fanatic like myself. We meet for the first time a Seapac Hamvention at Seaside, Oregon 6/1998. We talk frequently on 6 meters when the band is open for north south sporadic E propagation.